1970's Sandals Are Back!
Sometimes, when you're in the stores as much as I am, you clock a particular style of something. And then you see another version. And then another. And then a brochure drops through your door and they also feature the same style of "something". Which is when you know that this style of something is a "THING".
Let me introduce you to the hottest style shoe this season, which is the 70s style sandal. There is no doubt that 1970s sandals are back! Here, let me walk you through a few options…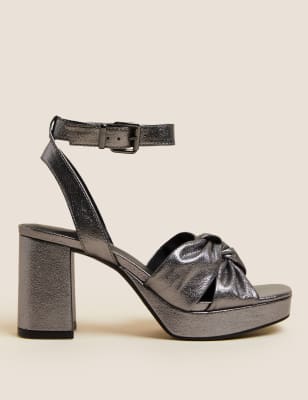 The Marks & Spencer Metallic knot ankle strap platform £39.50 also come in green – just take a peek below!
What I like about the M&S version is that they are made with their Insolia technology, which is designed to reduce pressure on the balls of the feet meaning you should be able to wear them for more than about 20 minutes.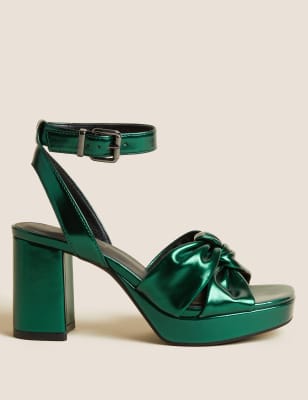 There are lots of options on the High Street. I promise, now that you know about them you are going to spot them EVERYWHERE!
Let's continue with our tour…
Monsoon have this pair, below, for £55 The reviews of this style are good. They are described as stylish and comfortable, although some people find them a little narrow. Fear not, I have a style that might help below!
Most of these 1970 style shoes seem to come in metallic, or velvet, which can be lovely in the run up to Christmas. Monsoon has this style in velvet…
Monsoon Velvet knot, platform heeled sandal (£65) these come in both red and black and again the reviews are good.
I've had a lot of people recently tell me how they are struggling with pain from their big toe joints and the platform on these means that the foot is flatter than in stilettos and the block heel offer real stability. I've seen the words "dancing" on more than one occasion in the reviews. Imagine that!!!!
These Hayne platform velvet sandals from Hush come in pink and black and cost £99. Again the reviews are good. They are described as having a wider fit and being comfortable.
Hush also do the Hayne style in leather but only in gold. At £115, they are slightly more expensive than the velvet option.
If you felt inclined to spend a little more on this style, Me& Em has the crossover block heel sandal in gold and black (£295)
And Esska have the Charlie style which come in no less than eight colours! These are priced at £155. If you haven't come across Esska before, the business is run by Souraya, who originally trained as an architect. Esska shoes are designed in London and made in a factory in Portugal. They have padded innersoles and the emphasis is very much on original, comfortable and timeless footwear.
The style below are called Groovbaby and they are from Russell & Bromely (£275). They come in blue, pink, neutral, gold, orange and black. As I've shown, there are lots of less expensive options but if there's a particular colour you're after, these could be for you!
Russell & Bromley also have the not dis-similar Topform style, below, for £225. These come in red, brown, blue, green and pink. I must admit to loving the vibrancy of these colours! The green and pink also have bags to match, you should want to tap into the "matchy matchy" look.
And remember I said that I would bring you a wider style? Well Simply Be at Next have this extra wide fit style in gold for £35.
And for a super inexpensive closed toe style, try these hot pink Mary Janes from Primark (£16)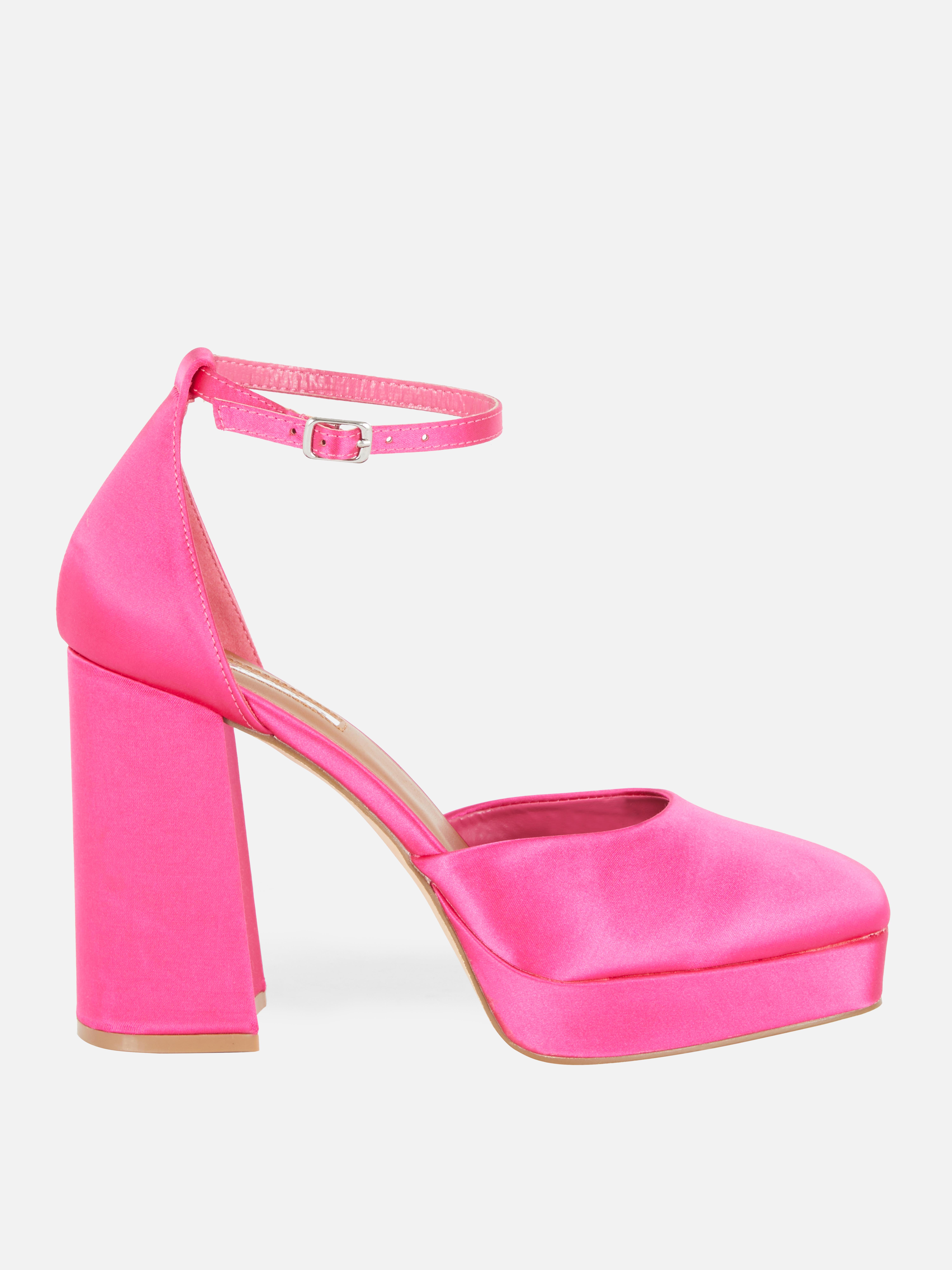 OK, so I think you've got the message that 1970s sandals are back! So let's look at some ways of how to wear them. First things first – don't worry that you need to have bare legs, or that your toes (might) need to be on display. Many styles may be open-toed but it is possible to keep your toes firmly under wraps with socks and tights. Yes, in this instance, socks and sandals are not a fashion crime!
Oliver Bonas is a great place for sparkly socks!
Animal Print Teal & Blue glitter ankle socks Oliver Bonas (£7.50)
Rainbow glitter frill ankle socks (£7.50) Oliver Bonas
So what do you think to the idea of 1970s style sandals? I thought that they might be something worth putting into your melting pot of ideas as you plan your autumn/winter wardrobe and think about what you might wear over the Festive season.
Here are some quick ideas on how to wear them…
With a wide leg jean, turtleneck and sparkly socks
With pleather trousers, spotty socks and a printed blouse
With a black pleated skirt, fitted knit and patterned tights
With a midi dress and patterned tights.
1970's sandals are back and I think that a pair of these babies really could revolutionise some existing pieces in your wardobe in an instant. And that, as we know, is what it's all about! 😊
Oh and before I forget (it happens a lot these day!) if you're looking to improve your style confidence; to feel braver in your choices and wear the things that you like but which you tell yourself you could NEVER wear, you might like to read my Style Confidence Guide. It's a 25 page e-book with lots of thoughts, ideas, practical suggestions and steps that you can take to make you feel more like "you" again. Just click HERE to download it for free.