Comfortable shoes when you're over 50 can be really hard to find. Hands up if you struggle with this 🙋‍♀️🙋🏽‍♀️🙋🏽‍♀️
Shoes are a regular topic of discussion inside of my style membership, The Style Lounge – not that all members are over 50. Some are barely 40, whilst others are in their 70s, but we do have a mix of small feet and larger feet, wide feet and narrow feet – and finding comfortable shoes can be challenging, for sure!
In this post I've shared brands that you may not have come across before but which I particularly like for their styles and comfort. Having said that, I'm aware that some of these brands are on the £££ side and so I've linked to alternatives where possible as well as comfort ranges from High Street brands at the end of the post. And if there's a style you like the idea of but the ones I've featured aren't quite right, ASOS is a great place to look for an alternative.
Trainers are currently EVERYWHERE! Today I sat outside in the sunshines at the back of the Mailbox in Birmingham and as the world went by, I observed what women had on their feet.
My favourite Air & Grace Alto Trainers (£169) which have a 3cm built in platform and which are fab for your back!
Almost exlusively, they were wearing trainers. All I spotted aside from trainers were one pair of flat loafers, one pair of chunky sports type sandals, one pair of "court" shoes and a few pairs of block heels with ankle straps, or slightly higher stilleto, type heels – and that was all. These heels were largely associated with hen parties (as were the blow up dolls!)
Park Up by Russell & Bromley (£195) I love these but walk out of them in a flash! They come in lots of colours and are really popular amongst women "our" age.The Ellie trainers at Mint Velvet are similar (£119) and the signature wedge trainer at Next is also similar (but there is quite a long lead in time on them.)
In total there was probably no more than a handful of "non-trainer" shoes to be seen. I confess, I too am a trainer fan through and through but I accept that not everyone is. So where to go and what to look for when you're on the hunt for comfortable shoes over 50?
Star denim suede trainers £179 (which come in 10 colours) from Sole Bliss, who design shoes for people with wide feet and bunions
A few weeks ago I wrote a post on Mary Jane shoes, which you can read here but I also wanted to share some other styles with you.
Now, the issue with flat shoes is that, unless you have the legs of a racehorse and/or very slender ankles, they can make us feel "dumpy" – well, they can me, for sure, so I prefer some height but without the height. Yep, that old chestnut!
The way to achieve this is with platforms, flatforms or a hidden platform – all of which add height but without a heel. Most of them also add an element of "chunkiness" which has the effect of slimming the leg.
Totally left field, given what I've just said, but I love these! These are the Ruby from Sole Bliss (£189), they come in 5 colours and are designed for people with bunions and wide feet.
Don't get me wrong – I'm not suggesting that anything other than slender ankles and racehorse like legs are acceptable. I possess neither myself. But I do know how very flat shoes make me "feel" in my head – and I'd just rather have a bit of "chunk" and a bit of "height" to balance everything out. Dainty ballet flats and super flat loafers are SO not my friend but if they're yours, then consider yourself a lucky chick!
A lucky chick who can wear very flat flats and look elegant whilst doing so – a bit like Princess Di!
Brogues
I'm sure that you're all famililar with brogues but I wanted to draw your attention to Rogue Matilda who are a brand I love and who I've been lucky enough to work with in the past. This style is so versatile with trousers, jeans, palazzos, dungarees…you name it! I'd wear these with denim dresses, shirt dresses, white dresses…the list goes on!
Maxi in duck egg blue Rogue Matilda (£195)
Another style that I liked, also from Rogue Matilda, are shown below. Navy is such a classic that never goes out of style and these would give the trainer "feel" but without the trainer look. Again, they'd be great with khakis, wide leg trousers, cropped jeans, linen trousers and so on.
I came across Nicola Sexton when I was presenting at Moda International at the NEC. I LOVED her shoes. The print, the colours – they were just so different and they really caught my eye. They're designed by Nicola herself and made in Italy. Not only that but they start at a size 2 and go up to a size 9.
These are the Alexandra loafer in navy and bay pink and are £189
Loafers
Loafers are having a huge moment right now. I can't pretend that we always get on (it's the cankles you know) but if I was going to buy any, they would be from Air & Grace. Their trainers and boots have never let me down and, unlike some items of clothing, I'm a really fussy bunny when it comes to shoes. If they're not comfortable, they're not happening!
Pink leather Harper loafers from Air & Grace (£149) which also come in other colours
Espadrilles
Ah I love a wedge espadrille in the summer. This version below is the updated style by Air & Grace. In the past I've had their shimmie style which have been SO comfortable. Kurt Geiger have a mid height espadrille wedge and some of the most comfortable I had were from Tesco's F&F comfort range when I did a collab with them several years ago now.
Pipa Mint Espadrille Wedge from Air & Grace (£129) which also come in lilac or gold.
Pretty Flats
The thing about these gorgeous flats is that they are real "smile" shoes. We should all have pieces that make us smile and the more simple your wardrobe, the more fun you can have with shoes, which often last longer than clothes and provided that we wear them alot, we can get that cpw right down!
More pretty flats Tootsie in navy £165
Clogs/Mules
Hello 70's!!! I figure that this style of shoe is the summer equivalent of the winter boot. Closed toe ✅ chunky heel ✅ non-slip sole ✅ neutral colour ✅
If you haven't thought about them before, or for a while, these could be worth contemplating this summer – especially if you're a jeans type girl!
Russell & Bromley Nicks Platform Mule £225
It's good to see that Fit Flop have expanded their range. I feel that these might either really work – or they might not. But they have potential for sure and if you prefer something other than a neutral colour, give them a whirl!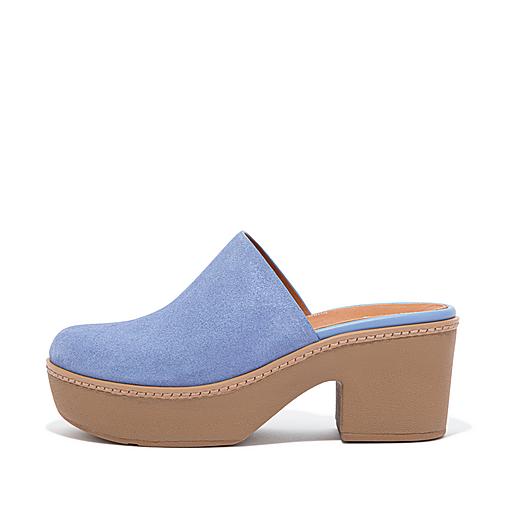 Pilar Suede mule platform Fit Flop (£120)
And then we get to the good old clog. I saw a woman by the pool on holiday wearing clogs and she looked incredible. It was the combination of the sunglasses, the oversized shirt and the black swimming costume I think – but she looked EPIC! And as (like us) they're already dated, (unlike us) they won't really date any more!!!
Dellabosco clog by Russell & Bromley (£225)
Listed below are some comfort ranges from other brands which you might want to check out. Oh and Dr Martens seem to be having a come back too. LOTS of ladies I've come across recently have gone back to DMs. I love it!
Vionic Ecco Forever Comfort Range At Next Hotter (which come in a size 3 to 9 and in a slim fit, wide fit and extra wide fit) Pavers (which come in a wide fit) Fitflop
I really hope that this helps when it comes to finding comfortable shoes when you're over 50.
If you're feeling a little stuck when it comes to your style – a little like you're on your own with this and everyone else looks like they've got it sussed, you might like to download my free Style Confidence Guide and take a read. It might just give you the lighbulb moment that you've been looking for to take the first step towards start getting things back on track.
Have a super week,
Beth xxx
GET YOUR FREE 25 PAGE STYLE CONFIDENCE GUIDE HERE