Audrey Hepburn in a Trench Coat in Breakfast At Tiffany's
First developed for British Officers during WW1, the Trench Coat is a true style staple. Aquascutum and Burberry hold claim to its invention but now we can find them everywhere. And we can SEE them everywhere too.
From businessmen to gangsters, on the silver screen and on your local high street, over jeans, over ballgowns and on 20 somethings to 90 somethings – can you think of any one garment that is worn by so many people in so many ways?
A Trench Styled For Spring – easy but effective!
Which is why I'm so chuffed that Trench Coats are having a revival this spring. With a daughter who has just moved to Paris, just like stripes, they remind me of all things French…and therefore also our daughter, who we miss but who is having fun! (Take a look at my post from two week's ago HERE to read more about how stripes are also having their say this spring!)
Picture of Emma Hill courtesy of Pinterest. You can follow Emma on Instagram HERE
Not only that but they take me back to the first Trench that I ever had at the ripe old age of….15! My school friend Jo Mason had one and she looked so cool in hers that I begged my Mum to buy me a navy trench.
And you know where we got it from? Canda at C&A!!! I suspect that Canda's demographic was more 55 than 15 – but thinking about it, when I was 15 I pretty much dressed like a 55 year old did back then…hello permed hair, kilts, pleated skirts, frilly blouses and sensible shoes. Miss Marple eat your flipping heart out!
A Trench With White And Black Is Always A Winner!
After that came a Trench Coat that I wore at University and one that I wore when riding my bike to the train station at 5 am and which I regularly used to have to pull from out from my rear wheel, which caused me to wobble right next to the huge M&S lorries that were overtaking me.
Then there was the trench that I had in the early 90s which was long and swishy. I wore it with a navy blue Ralph Lauren rucksack which I got free when buying some "Polo" perfume. That rucksack is still in existence and has recently also found its way to France, along with our daughter.
A Khaki Trench Is A Nice Alternative To Traditional Beige
So that's my Trench Coat story….what's yours?
The great thing about Trenches is that they come in pretty much ever colour imaginable (unsurprisingly, I had a bright pink one once!)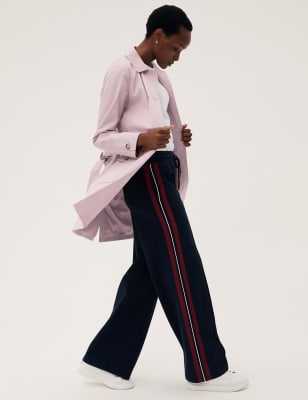 Lilac Trench from M&S (£45) (it also comes in navy)
And you can get them to reflect your own personal style. So for example if frills and puff sleeves are your thing, they're available. But if you prefer more of a utilitarian leather/pleather sleeved look, they too can be found.
This is one of my favourites – it's a sleeveless trench from Next (£90) with a quilted lining and it can be worn either with, or without, the lining. Great for this time of year!
And then of course there's the length and the style. Full length, knee length or hip length? Fitted or oversized? Cape style or not?
Short trench coat from La Redoute (£55)
And fabric! Most Trench Coats are made of cotton. Some are cotton and elastane but this one from Mango at John Lewis (£35.99) is lyocell, which gives it that lovely lightweight, silky, drapey feel about it. So if historically you've found trenches boardy, try one that's made from tencel or lyocell.
If you're petite, there's one clear contender this season and it's this one from Hobbs (£159.20 if you're quick!) One of the members in my style membership was asking about trenches for petites and after a lot of hunting, we came to the conclusion that this was the one that best catered for petites.
If you've got a curvy figure, this one which costs £49.99 from H&M comes in a L to a 4XL. I particularly like its colour which is a little more camel than some and more flattering if, like me, you're fair in tone. Some trenches can just leave me looking really washed out! I've linked to H&M's selection of trenches HERE
Now, if we were going all out "investment" – then I love this one from MaxMara at John Lewis (£565). But for now, it can be used as inspiration for a less spendy alternative.
So there we have it. There are trenches galore this season so go have fun and let me know how you get on! 😊
Oh and if you haven't already received your copy of my Style Confidence Guide and you'd like one, just head HERE, pop your details in and it will be on its way to you in a flash!
Have a great week!
Beth x