Very old Topshop Mary Janes with old season J Brand jeans and new season Ashley organic top from Baukjen (£59) top and Alanis Jacket with lenzing (£199)
There's 15% off at Baukjen with the code BGSTYLIST15
Before I've even started writing this post about Mary Jane shoes I can feel the resistance….😊
"I wore Mary Janes when I was 5 and I'm not wearing them now!"
"If you think I'm wearing a mini with those and doing the whole 60's look you can think again!"
"These remind me of what I wore to the office. No way!"
And I get it. I hear you. I thought the same too at first. But honestly, just bear with me, because I'm going to talk you through some ideas of how Mary Jane shoes might work quite nicely in your spring wardrobe.
Plus, let's just take a minute to think about it. What flats are there out there right now that we haven't been wearing for YEARS?!
The A/W collections were FULL of loafers. Literally. Wall to wall loafers. For years we've also had ballet flats. And somehow they definitely don't feel as fresh as a daisy. We've also had flatforms, which I love and trainers too – but it's time for a change. A lighthearted, brighter, more delicate, springtime…change!
The embroidery option. A big trend in its own right this season Boden shoes at John Lewis £120
Then, at the end of the day, if you still go "no flipping way" then at least you'll have ticked them off your list as a place that you don't want to go and you concentrate on something else instead…
…but please don't ever tell me that you're wearing an orthapaedic style of Mary Jane shoes from Hotter. I'm not quite sure where that would leave us so no, best keep that one under your hat. (Unless you're my Mum that is. She's 79 so she's allowed to wear them!)
The easy, soft, go with everything option! John Lewis suede diamante Mary Jane Buckle shoes (£59)
Righty ho! So here goes on a few suggestions for how to style Mary Jane shoes…
A juxtaposition is key
If you don't want to look as if you're going to work, or as if you're 5, or about go to a wedding (all of which are fine by the way!) then how you style them is key.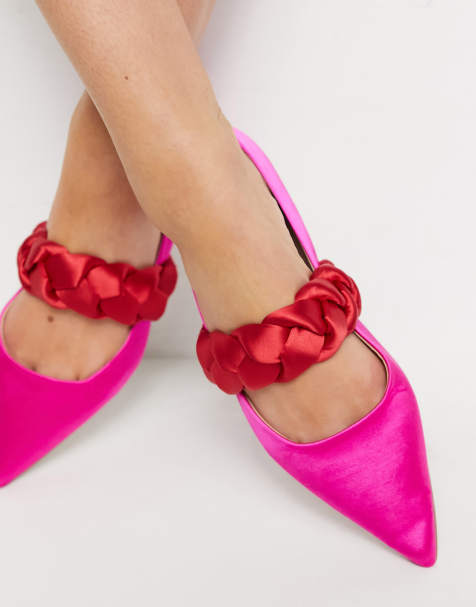 Pink Mary Janes from Asos £20 – if nothing else, these are a lovely spring time alternative to slippers!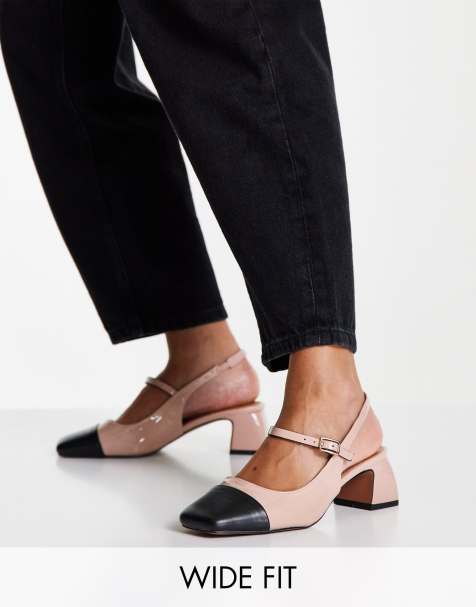 And these have that "spring time in Paris" French feel about them! ASOS £19.20 They also come in a standard fit HERE
Let's think of your outfit as being made up of three parts – top, bottom and shoes. If you're wearing Mary Jane shoes, at least one, if not two, of the other items needs to be more casual in style than the shoes. That way the look that you create is more modern, fresh and up to date. Think denim, khakis, a leather jacket, a boyfriend blazer & tees.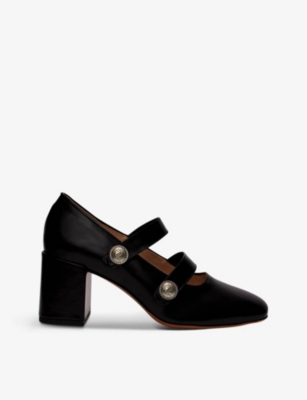 MAJE square toe leather Mary Jane heels (£164.50)
If you ARE able to embrace the idea of Mary Janes, they could actually do a really good job of pepping up your wardrobe staples. Sometimes one new piece in our wardrobe can make all the difference. And they could, for example, be a great addition to a working from home outfit, or when off to the pub, or out for coffee with friends, or even springtime slippers.
So here are some outfit ideas (all taken from Pinterest). Now these images come with their own obvious limitations so please forgive me.
Flat Mary Janes are a nice alternative to a ballet pump and with a grey tee, layered necklaces and a blazer, it's an easy springtime look.
Here's the lovely Alex wearing her Mary Janes with jeans and an intarsia knit. An easy one to take inspo from! I would definitely need a little fake tan for this look but that's do-able if it facilitates a new look!
I love the beaten up jeans and oversized top look. Again, an easy one to use for inspo. The pink MJs are so cool too!
Alexa rocking some cool red MJs 💘💘💘
This is how I plan on wearing my Mary Janes this season….
with khaki trousers and a pretty blouse
with khaki trousers and a denim shirt
with jeans and a breton top
with cropped wide leg jeans and a slogan tee
with white jeans and a safari style shirt
There's a whole selection here at SHEIN which I'm linking to just for ideas. But for sure, there will be more in the shops soon!
So are the cogs turning. Can you imagine re-visiting Mary Janes? 💘💓🥰