As many of you will know if you follow me on Instagram, I've been on the hunt for comfortable pants. Simple, everyday, comfortable pants.
It all started when the weather warmed up and I wore a summer dress. And my pants drove me MAD! They were so annoying and I was constantly re-adjusting them to make them comfortable. They moved around, disappeared to places that I didn't want them to go and were extraordinarily irritating. By the end of the day I had had enough!
So I popped a post on Instagram about my plight and lots of lovely ladies were kind enough to share their wise words about their favourite pants.
I took the plunge and bought some that were recommended. I was also fortunate enough to have some sent to me (thank you Katy at Stripe and Stare) and as I already owned one of the pairs that was recommended and found another contender in my knicker drawer, I feel that I'm now in a place to post about some great finds! And I know how you all like a good pair of comfortable knicks!
The first pair – Jockey Pants
Having undertaken a considerable amount of research, I first tried the Jockey Natural Beauty Seam Free Hipster (3 pairs for £22). They were recommended to me by someone who lives in Australia and I liked the look of the style and the wide band around the waist.
As to the practical info….
On the website there are 282 reviews and over half of them give them 5 stars. These pants come in 4 colours: black, white, sandcastles and sandy shimmer and they are made of 35% cotton, 35% modal, 3% viscose, 23% polyamide and 4% elastane, meaning that they are made largely from naturally derived fabrics, other than the polyamide (23%) and the elastane (4%). There are no side seams and they do, indeed have a lovely wide comfort waistband, "for a smooth fit." They also have bonded seams. So far so good!
They arrived in a large cardboard box, which was way larger than necessary for three pairs of pants but maybe they're not running their processes as usual at the moment. I think we all know how that feels!
Now, I can always tell if I like something as I hunt for it as soon as it comes through the wash. And it was the same with these. I was all over hunting through the washing piles as soon as they were dry, so that I could wear them again.
I like that they are comfortable and supportive, without being tight. They moved a little but not too much and the cut sat well with my butt! There was no disappearing of them to places that I didn't want them to go and they were infinitely more comfortable than my existing pants. So far so good!
The second pair – Stripe & Stare
Now you know when you're on to a good thing when countless people recommend the same brand. And that was exactly the case with Stripe & Stare. So many ladies were telling me how they had replaced all of their pants with Stripe & Stare. So I went to have a hunt on the site.
Now the thing is, Stripe and Stare only do one style of pant – which struck me as interesting because knowing how different women like different style pants, I was surprised that so many women were unanimous in their support (no pun intended) of this one style.
So I was like "Ooooh, interesting, tell me more!" Some ladies had swapped from thongs to these and loved that there was no VPL. Others loved the bum coverage, the wicking properties, the fact that they didn't move – all sorts of things really!
FULL DISCLOSURE HERE! Then, Katie, who runs the brand, offered to send me some pairs to try out. I eagerly awaited their arrival as more and more people shared how much they liked them.
As to the practical info
The pants arrived in sustainable packaging and the boxes are fab. They're like a little knicker drawer. It's so clear to see that there's been huge attention paid to every detail from the font, to the design of the packaging, to the writing on the boxes. I really get the feel that this brand is all about delivering a true customer experience, rather just delivering a pair of pants.
First things first. The pants come in S, M & L. The flat lock stitching means that there's no VPL. They are also breathable and they are made of 95% soft modal fabric (which is 100% sustainably sourced from beechwood trees) and 5% modal. Stripe & Stare claim that there is no riding up and the fabric uses 95% less water in its production. As an aside, each week Stripe & Stare give away 5 boxes of knickers to nominated heroes.
So this is the Basics knicker box from Stripe & Stare which costs £40 for four pairs. You can buy them individually or in packs of four, which come under headings such as "Tropical Knicker Box" "Fruit Knicker Box" and Tie Dye Knicker Box. Hearts and Stars & Meadow knicker box
It seems to me that these pants have an almost cult like following – and I can see why!
But first I'm going to share a story with you.
Someone contacted me on Instagram and said that to her these looked like M&S bikini pants and was the fuss really justified?
And I know what she meant. These pants don't look that different to many others and we're a savvy bunch – so it was a great question. Plus at £10 a pair, they are not the cheapest pants so people need to know that they are worth it.
Now as to the style. I like a short style of pant and when I first wore them I found them quite low cut at the front for me. So in all honesty, I wasn't quite sure. But that all pales into insignificance having worn them many times. I think that the answer lies in several things but in one in particular. The gusset. It's wide, which I've concluded means there's more fabric going round under your bum so they sit better and don't ride up it (sorry if that sounds like TMI but you know – we need to know!)
I have tested and tested and tested these. I have given two pairs to friends and a pair to my daughter to get them to test them and they too all have declared that they are really happy with them. I've worn them to run in and under summer dresses. I've bent over to pick things up, I've ridden my bike in them, and done yoga in them. I've wandered around in them with just a tee shirt – just to see how they fair when there's nothing over the top of them. I've even worn my older pants just to double check that I'm not imagining things – and both pairs of my older pants I took off and swapped for these within five minutes. I've also checked them against the Jockeys just to check that I wasn't imagining things and these are better, for sure.
As to some additional information, here's what Stripe & Stare say about the fit…
I would say that very occasionally there is a tiny bit of knicker slippage. But only maybe three or four times a day – as opposed to constantly. I am a convert, for sure. What else can I say but try them and see how you get on. Put them through their paces – drop things and pick them up, wear them in your least supportive clothes, exercise in them, wriggle in them and see what you think! And if it helps at all, you can get a 10% discount using the code BETHG (please note that I will earn a small amount of commission if you use this code)
The third pair – M&S At Their Best
One of the other suggested styles were the Marks & Spencer flexi-fit modal low rise shorts.
At £6 these are a good price. Their composition is 61% modal, 25% polyamide and 14% elastane, meaning that they are a man made/naturally derived mix, with some stretch. Quite a lot of stretch in fact! They come in sizes 6 to 28, and they have 7 reviews, with an average of 4.6 out of 5 stars. The reviews said that were comfortable, soft, stretchy and generally they were really well received. In my research, people talked about swapping all of their pants for these.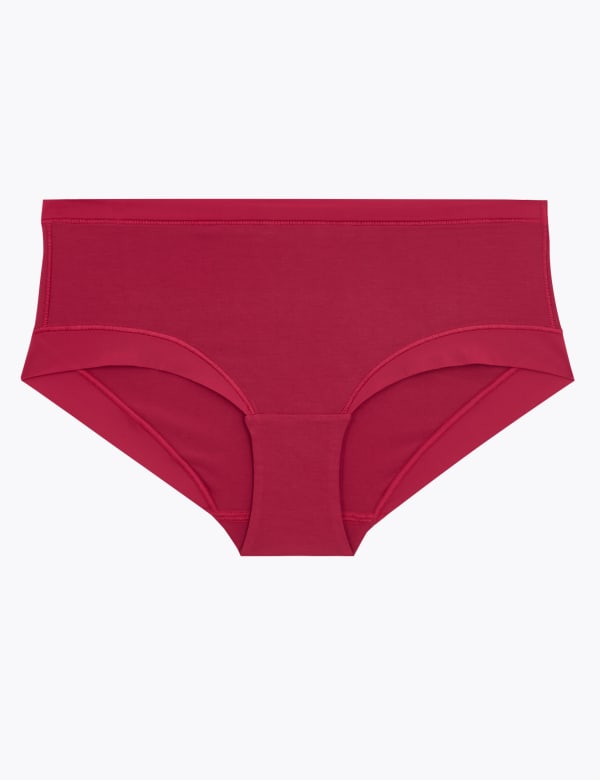 Now I own several pairs of these and I think it's fair to say that I'm not a fan anymore. Especially not compared to the Stripe and Stare ones.
I bought these the last time that I was updating my pants, on the basis that they looked both a good shape and comfortable. These are one of the pairs that I went back to, just to see if I was imagining how good the Stripe and Stare ones were and as I mentioned, within 5 minutes I'd taken them off. They just didn't fit as well, they moved around and within seconds, more butt cheek than I would have liked was peeping out from underneath them. True, pants can't defy gravity but they can definitely assist! But you know, we're all different and some of you think that these are amazing, which is great, particularly given the price, their size range and how easy they are to get hold of.
The fourth pair – One Size Fits All
I haven't tried any of the Chantelle Soft Touch pants, but I have to say that I am tempted to, just because a number of people really loved these, which is always a great sign.
They come in several styles and many colours, but interestingly, only one size. However the reviews clearly state how well they fit, whatever the person's size. They are made of 80% nylon and 20% elastane, which is an interesting composition compared to some of the other pairs that I've tried.
Chantelle High Waisted Brief At John Lewis
The reviews also say how comfortable they are and they feel as though you're not wearing any pants (I think I know what they mean!) At £14 these are at the more expensive end of the scale for everyday pants but people swear by the fit of them, for sure.
John Lewis stock 22 styles of Chantelle soft stretch underwear from pants (including strings, hipsters, high waisted briefs, bikinis and boy shorts) to camis, vests and slips so if they sound of interest, do pop over and take a look. Sometimes we just know what style we like so if that's the case with you, they might be worth a closer investigation.
The Fifth Pair – Fancy Pants!
If you're on the hunt for everything a little less "every day" – or if you just love to wear beautiful, matching, underwear everyday, then the Leona Style from Fantasie (£19) is a really good, comfortable style that fits well and doesn't move much.
I had been gifted a couple of pairs of this style brief from Fantasie and I had done what a lot of us do – kept them for best. Except "best" hasn't really materialised over the last few weeks so I decided to try them as part of my research. And they were lovely – really lovely to wear.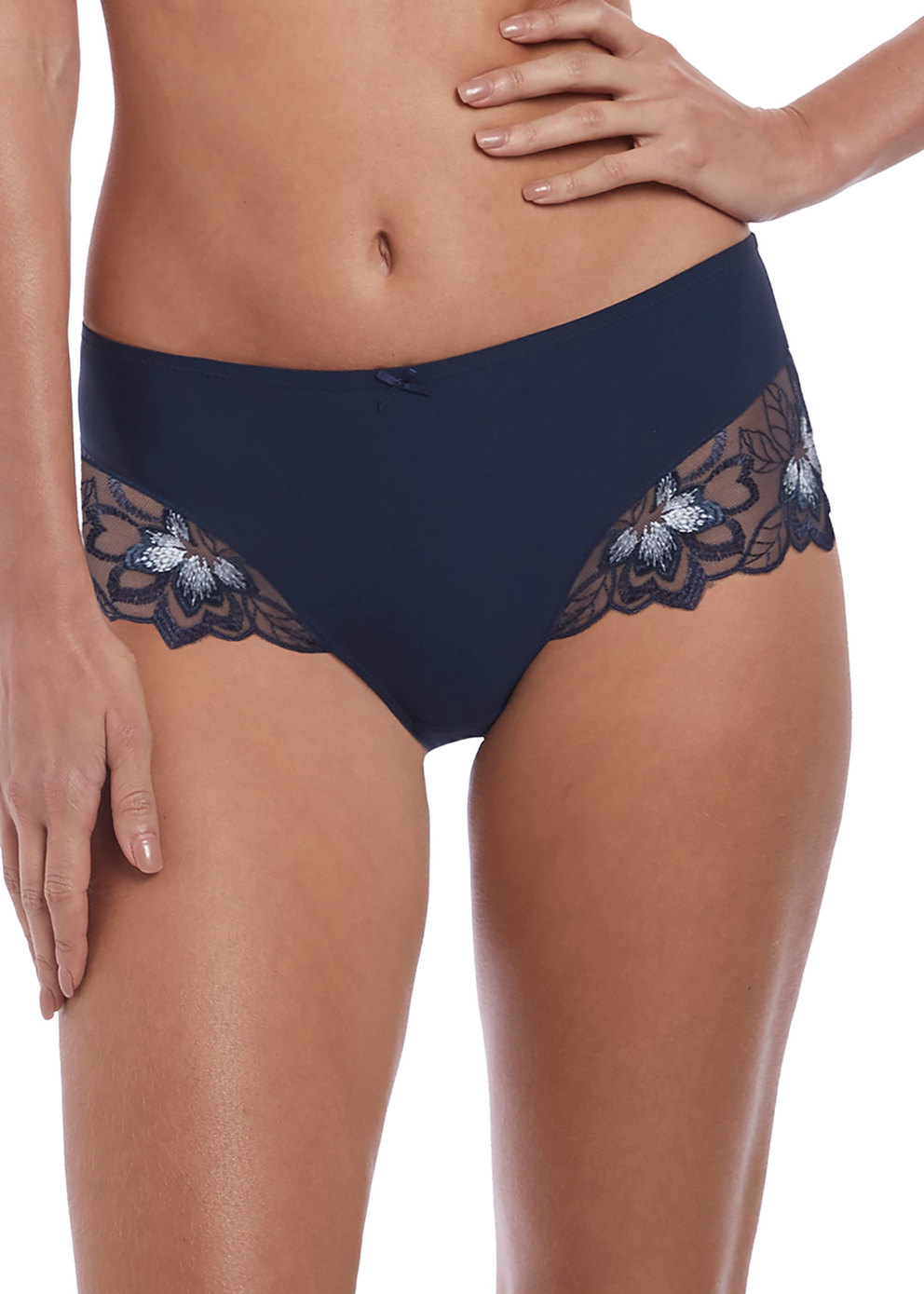 These are made of 79% nylon, 9% polyester and 19% elastane. It is recommended that you hand wash them only. They are described as a "fuller coverage brief" but they really don't feel like granny pants at all!
Fantasie have a lovely range of briefs and do matching sets of underwear. In particular I like their side support bras but that's a whole different story!!
I hope that you have found this pants run through helpful. Do let me know if you have any questions at all!
Oh and before I forget, I've written a brand new 25 page "Style Confidence Guide – How to have the style confidence to wear what you love, at any age". It's packed with client and student case studies, as well as actionable tips and strategies that you can implement right away and is designed to take you through a process which will leave you feeling more confident than you have done in years.
In it we take a deep dive to find out how you've got to where you're at, how we can move you forward, how to identify what you love and need in your wardrobe and how it would "look" for you to have a wardrobe that makes you feel happy and confident every day of your life. How does that sound?
Just click HERE to get access to your free copy! I hope that you enjoy it.
Have a fabulous week!
Beth x