Hello! Back again! This time for a white dress update.
Many of you loved the white dresses that I showed in my IGTV this week (you can watch that HERE) but (like me!) they are rather old now, so I've gone on a metaphorical whizz around the shops, and the internet, to choose the white dresses that I would buy, if I were going to add to my collection.
But first things first – what to wear underneath one? Many white dresses, even the more expensive ones, can sit on just the wrong side of "Lady Di in a see through skirt." That's a fab look when you're tall, slim and 19. But when you're shorter, mid 40s and wearing granny pants – well, not such a good look then is it?!
So I headed to good old M&S to hunt for a simple slip to wear under a white dress. First of all there's the option of a shorter one. This M&S Full Slip costs £25 and has one, 5 star review, with the customer saying how comfortable and pretty it was. Now I know it's not the cheapest of items but it's one of those that is worth investing in, if it means that half the dresses that are sitting in your wardrobe which were unwearable, now suddenly become wearable.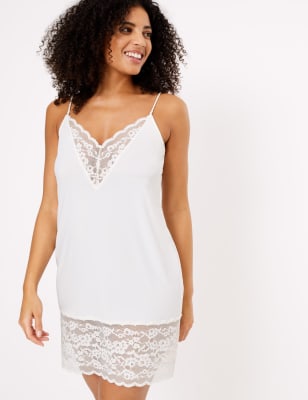 For £20, you can get a pack of two from M&S (white and almond, or black and almond). They have 273 reviews with a 4 star review rating. I think they would be a pretty safe bet but some people commented on the fabric and the length. Anyway, they are just an idea!
So as to the white dresses themselves. We may be at home this summer but that doesn't stop us wafting in a kaftan, looking lovely in lace, sizzling in a shirt dress or looking brilliant in broderie (I know, I was scraping the bottom of the barrel there!!)
The Sundress
This Zara sundress (£49.99) could be a fab option if you've got a smaller bust. I say that because there doesn't look to be much space between the top of the dress and the seam underneath the bust – but I could be wrong. It's described as a loose fitting dress so it should be good on a hot day. As always with Zara, things can be a little hit and miss but if this is exactly what you've been after, it might be worth a try. The other good thing about Zara is that there could be more than one style that you like, so you might actually get a few to try.
Aspiga also have this great sundress by Banana Moon (£65). I've tried it in black (it also comes in orange) and it's a super easy throw on dress which looks, and feels, great. It's 100% cotton slub and the brilliant thing about this dress is that you can alter the strap length to suit you. So if you're someone who finds that straps are always falling off their shoulders, this could be for you.
H&M have this cheeky little crinkled cotton sundress for £19.99. It is 99% cotton and 1% elastane which is good because you never know when that stretch might come in handy! And the fact that it has the word "crinkled" in the title is even better. No need for ironing – it's meant to look like that!
The Shirt Dress Style
This Zara poplin white dress (£49.99) is an easy entry point to the white dress debate. It's a shirt style, which we're all used to, has a good length and long sleeves. Plus it's 100% cotton. I would probably swap the belt for a metallic one but the fact that it has a belt means that you can ring the changes easily.
And the short shirt dress from H&M (£24.99) with these epic sleeves, is just fab. How easy would it be to throw this on and potter around the house in the summer feeling cool and slightly contemporary? Just add in the chunky sandals.
The Silk One
My lovely friend Becky, runs Bricks & Stitches. She has this gorgeous Italian made silk dress for the great price of £45. It has a jersey lining so there's no need to worry about it being sheer and it can be washed on a cool wash. Perfect for a silk dress!
The Broderie One
This petite Broderie Puff Sleeved Midi from New Look (£27.99) which also comes in black, is a Wardrobe Workhorse. It's 100% cotton but is currently limited in size (4 to 12). It also comes in Tall HERE A friend of mine has this dress and has reported that she's loving it!
Now this could have gone either under "kaftan" or "broderie" but I'm popping it here because it's the broderie that makes this dress such a pretty one. It's from H&M and it costs £34.99 It's 100% cotton with a 100% cotton lining, which as you can see from the image below, isn't full length and can also be removed from the dress. The lining also has adjustable straps. It's difficult to tell from the picture but it's actually described as cream in colour. I would happily wear this all day, every day, during the warm weather. Cool, comfortable and covered – it ticks all of my style boxes for a hot day.
This flared cotton white dress from H&M is (£69.99). It's currently available in XS and S only and it is 100% cotton. This dress is all sorts of pretty – from the broderie to the puff sleeve and the tiers in the skirt. It's dipped at the back, which is perfect if you prefer a little length at the back of the knees.
This Orson dress from Baukjen (£125) is a fabulous shape for a hot day. It's not tight, or restrictive but because it's neat around the shoulder line, it's still flattering. The open neckline and tiered shape are perfect if you've got a larger bust and a "not quite perfectly flat" tum.
The "Off The Shoulder" Style
This beautiful dress is from Pampleone clothing. They have sample sale on with huge discounts so do head over and take a good look around. . The items are not returnable but if if helps, I have found their sizing true to size or if anything, verging on the slightly small. So if you're in between sizes, I would go up one. This Sardinia dress is reduced to £50 from £150. I also love the Delphina dress (reduced to £45 from £185) and the Volpe Dress again reduced to £45 from £185). They've also got some shorter dresses if you prefer those. Here's a link for you to the dresses page
The Beach Style
This dress is from Truly Cool Beachwear, a brand run by the lovely Jane. The "bombshell Bardot" is in the sale and is now £27.50 instead of £55. Jane has some great pieces for your summer garden staycation so if you're planning on having a proper holiday at home ( I deffo am – cocktails in the garden anyone?) and if you want to embrace a summer vibe – then Truly Cool Beachwear is a great place to visit.
The Kaftan Style
How beautiful is this Linen blend kaftan (£69.99)? It's from H&M and is just soooo stylish. It would also look great worn open, over shorts and a vest.
There's also a plain Kaftan style dress at H&M (£19.99). It's 100% cotton but just note that this one is cream. It's cool and floaty and perfect for a baking hot day when sometimes it's nice to have coverage and not be too exposed to the sun.
The Universally flattering Style
This Ruby dress from Aspiga (£150) is made from organic cotton and it's also lined. This is such a fabulous style too – it's a deep enough V to be flattering if you're an hourglass or an apple shape but not so deep as to be unflattering if you're more of a pear or a column. It nips in at the most flattering point underneath the bust and it's got a great sleeve length to it. It's also got a dipped hem, which is great if you prefer a little coverage at the back of the knees and there's some (but not too much) volume in the skirt to balance out broader shoulders or wider hips.
The Natalie dress by Aspiga (£120) also fits into this category. It's 100% organic cotton and again has this great open neckline, slight balloon sleeves and it's nipped in under the waist, before flaring out slightly making it a super flattering style. The position of the empire waist line creates a brilliant leg lengthening effect, yet it's not so voluminous underneath the waist band so as to create that "pregnancy effect" which some empire lines can.
The Lace One
Head over to look at this H&M lace dress (£49.99) Another pretty one if you fancy a little lace in your life right now!
This is the Eivissa lace midi dress from Atelier Ziiga. At £265 it's not an every day purchase but if you have a big birthday coming up (I know that a lot of you have!), if you're looking to renew your wedding vows, or just because you fancy it, this is a gorgeous dress.
What I particularly like about it is that it's loose and roomy but because it's sheer, you can still see your silhouette through it. If you would like to see the dress in action, I'm wearing it over on my IGTV channel which you can access HERE The one that I am wearing was kindly gifted to me by Victoria at Atelier Ziiga and I shall be forever grateful.
Perfect For Pears
The ruffled midi dress from Other Stories (£85) is cotton but it's also lined (although the lining isn't cotton). The ruffle details on the sleeves work for broadening the shoulder line, which will balance a pear shape beautifully. They also broaden the shoulders of a column shape, whilst the width in the skirt adds shape to the lower body.
The elegant one
I loved the shape of this H&M long v-neck dress (£49.99) it's elegant and balletic with a beautiful shape to it. It's 100% cotton and brilliant for swishing around the house in. I mean if I can't swish in Crete I'm flipping well going to swish in Birmingham!
The Minimal One
The Rosetta Dress from Baukjen (£119) is 100% cotton and lined and it has that little bit of extra length for anyone who prefers it. The width in the skirt is nice for balancing wider hips and the nipped in waist is perfect for adding shape.
The Wide One
For one of my 50th birthday celebrations, we're going to have a "pudding" evening. It will involve pudding…lots of it…and quite possibly a dress like this which is from H&M (£19.99). Puff sleeves, tiers, ties and width. What more could you want? Where's that hostess trolley? Bring on the puddings!
Going Grecian
In the same way that I could put a duvet coat around me in October and not take it off until April, I could put this Mykonos maxi dress (£135) on in June and not take it off until September. It just screams summer, sandy beaches, holiday and fun. OK so it may be a staycation this year but you know, we can try to recreate that holiday feeling in the back garden can't we? It's 100% organic cotton and lightweight, so it's a little sheer.
Polyester But Pretty!
And finally…..there's this white spot floral midi dress from New Look in sizes 6 and 8 (£30). I just thought that it was pretty and that some of you might like it!
Hopefully there's something in here for everyone! Whether you're on a Zoom call, chilling in the garden, wafting on a hot day or pretending you're at the beach, a white dress is just such a lovely fresh addition to your summer wardrobe.
Let me know how you get on and if you would like to share any pictures with me, pop me an email at mail@bethgoodrham.com or head over to bethgoodrham_stylist on Instagram.
See you soon! Beth x