Hello – how are you all at the end of another lovely week?! I say that slightly tongue in cheek! Obviously there are parts of the week that are lovely and other parts that are a little more, well, challenging. But we have some sun on the way and that is always good for the spirits.
Today we're talking denim jumpsuits. Whenever I wear this denim jumpsuit (above) I'm always asked where it's from. It's now pretty old but you've asked for alternatives and so here they are. Some of you have mentioned that you're tall, some of you are petite, some of you have a long body and some of you are petite. So I've scoured the internet, read reviews and here's what I've come up with.
A denim jumpsuit is such a great piece to wear at home. Comfortable (if you get the right one) practical, good for Zoom, good when you're wielding a broom – and for everything else in between. They can be dressed up or down and work with pretty much every style of shoe known. They are a brilliant backdrop for whatever twist you want to put on one.
Just watch the fit and check your rear view. We demand a lot of a jumpsuit – it really does have to fit in all the right places – so it's worth taking the time to get the right one, even if it takes a few seasons.
The jumpsuit for a long body
There's nothing worse than being cut in half by a pair of trousers or a jumpsuit is there? A long body is something that many of us have to bear, along with proportionately shorter legs. Curvier hips and thighs can often accompany said longer body and shorter legs. I'm not painting a pretty picture am I?
However, the reviews of Hush denim boiler suit (£110) states how soft it is and how the stretch makes it comfortable. Most people were sizing down and at least 3 people said that they had returned it because it was too long in the body. Sizing is limited to size 14 and 16 on the Hush site and John Lewis have it in a size 14.
The positioning of the belt on this denim jumpsuit is good. It's quite high so it has the effect of shortening the body and lengthening the legs (bonus for some of us), although if the crotch is low, that can have the opposite effect. As with all jumpsuits, there are no guarantees – you just have to try them I'm afraid.
The petite one!
If you're 5ft 3″ or under, this Topshop denim jumpsuit, from Very UK could be a great option. It's only £21, which is a great price. It's only available at Very (not at Topshop) and is available in sizes 6 and 8.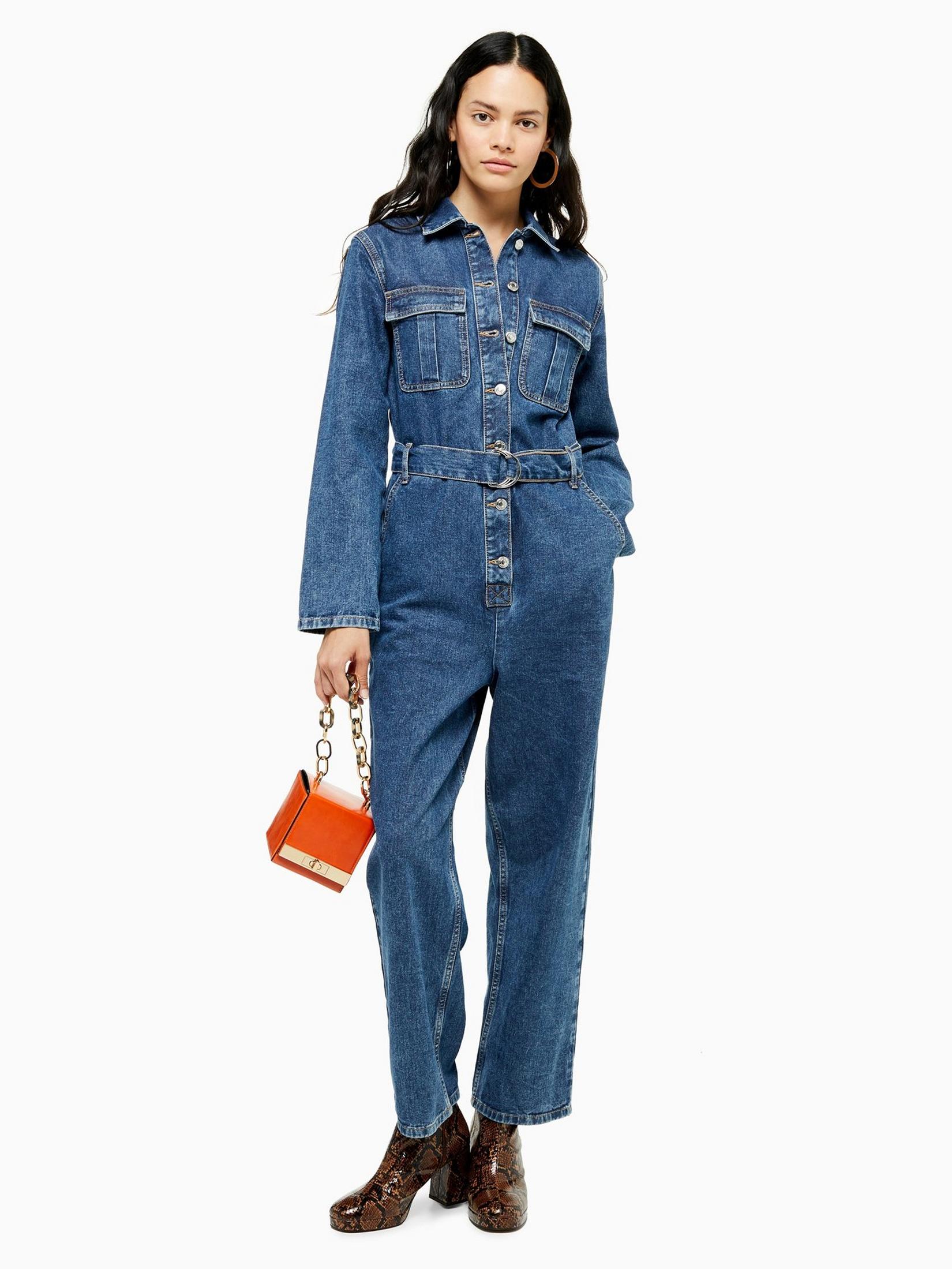 The jumpsuit if you're curvy
This Hush Pippa Jumpsuit comes in navy and khaki. There's plenty of availability in the khaki at both Hush and John Lewis but the navy blue is available only at Hush and only in a size 14.
As to the reviews, they were so positive. People loved the fit, the fabric and the shape of this jumpsuit, finding that the elasticated waist gave it a nice shape. They were often sizing down and ladies who were pear shaped, or who had a curvier bust, all found it super flattering. People commented that it was easy to get on and off and that they were finding it really versatile. Praise indeed!
The Jumpsuit if you like a wider length to balance your shape
I love this Me & Em jumpsuit, which some of you will prefer for its great "shape balancing" properties. A wider leg is great for balancing curvier hips and broader shoulders – and it may just feel a little more glamourous and a little less "plumber/decorator like" for those who just can't get that thought out of their head.
This jumpsuit is made of tencel which is lovely and fluid and it can be shortened by up to 6cm without affecting the shape. At £225 it is way more expensive than the other ones that I have shown you but Me & Em have great sales, so sign up for their sale notifications now!
Or there's this one..
This Whistles Gabby denim jumpsuit (£149) has a little more width at the lower leg which some might prefer for balancing the shape. It's dark grey and I have to say, I'm a fan of the buttons. I think that this one might have legs, so to speak!
The feminine one
I really love the styling of this Me & Em feminine jumpsuit. It definitely is "feminine" in so far that it has a neat shape, pleats, puffs and pockets to make it practical yet more feminine than some of the oversized jumpsuits that I've come across. Again, at £225 it's definitely an investment piece. It comes in a couple of colour ways.
And Me & Em also have this feminine cargo jumpsuit which has a soft androgynous look about it and it comes in navy and stone. It's a lyocell and linen mix, making it fluid and breathable. It could be a winner but at £250 it might be another one for the sale.
The Zipped One!
This Mint Velvet (£109) boiler suit is great style. I love the colour, the roll ups and the tie belt. Sometimes I find an elasticated waist a little limiting in that there is often little room for expansion, which is a common occurrence as the day progresses!
Some people prefer zips to buttons as they're less fiddly. I've hunted for reviews on both the Mint Velvet and the John Lewis site but there aren't any, so you would be taking more of a shot in the dark on this one – but it doesn't mean that it's not a shot worth taking! The only recommendation is to size up if you're tall.
The no frills, simple ones
There aren't any reviews of this Zara jumpsuit (£59.99) but I've included it for the fact that it has long sleeves and a collar, as well as an elasticated waist, side pockets and rear patch pockets too. So it has all of the necessary components – it's just a question of whether it works for you on a personal level or not.
This one snuck in also because it's a simple and easy one to style, at a great price (£30) and it's 100% cotton. Topshop have a few different styles, so if you're tempted to try one, it might be worth trying a couple. In for a penny and in for a pound and all that! Here's a link to the jumpsuits that are available.
I hope that you've enjoyed this jumpsuit roundup. Do let me know how you get on and what else you come across on your Internet travels.
Lots of love for now,
Beth x