Pleated skirts and how to wear them every day!
So how are you all this week? I hope that you've had a great week – however that may look for you. Whether it's having the children at home, there being less traffic on the road because of half term, or the extra hour in bed, it's good to find joy in the everyday.
It's also good to find joy in our clothes. Some of you, I know, find that joy on a daily basis. For others it's intermittent and for some it's virtually non existent. In an ideal world, I'd love for you to find joy in your clothes (and in your wardrobe) whatever event you're getting dressed for – even the "non-events" of everyday life.
I'm working hard on creating content to help with this, from blog posts, to style videos and my weekly Sunday Love Letter. In my Love Letter I write about topics that impact us on a daily basis, as well as sharing books and podcast episodes that I think you might love, the odd quote, a discount or two and of course, fashion inspiration. You can sign up for it here if you fancy a little Sunday morning light reading.
So this week we're talking about pleated skirts! In fact last week, I talked about pleated skirts in my Style Video, which you can watch below (I must find out how to do proper thumbnails for my videos!) But alongside the video, I thought that it would be helpful for you to have some ideas of where to go, to get the best pleated skirts in town.
Just to give a quick video re-cap, the things to look for when choosing a pleated skirt are the types of pleats (I find accordian pleats the best), the type of fabric, the volume of the skirt and the length of the skirt. Get these four things right and it can make a difference between you and a pleated skirt being the dream team and being a enemies in the changing room. You can get all the low down in the video!
So my favourite pleated skirts this season are as follows: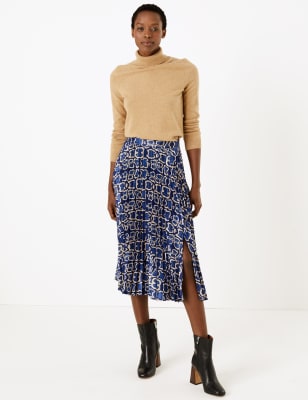 This animal print pleated midi skirt from Marks & Spencer (£45) is an absolute gem. The pleats are neat, there's not too much volume in the skirt and it is a lovely lightweight silky fabric. The print is great for keeping the eye on the move and it comes in a long length too, so if you find the whole shoe/tights/ issue tricky, try a longer length, which can definitely take some of the guess work out of it. For other M&S pleated skirt gems, take a look here.
I actually don't think that you can go too far wrong with a velvet pleated skirt in the winter and Marks and Spencer have a gorgeous one for £45, which comes in four different colours. My favourite is the silver, which you can see closer here I really love the sporty waistband on this one!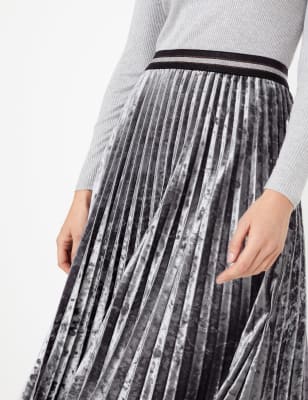 Hush have this metallic pleated gold and black skirt (£65). There's just something lovely about metallic in the run up to Christmas. Which reminds me: this would make a great outfit for our upcoming wedding anniversary trip away.
Whistles have a great selection of pleated skirts in the sale – so have a good look there too. I think that a number of the skirts were from this time last year, so you might grab yourself a real bargain. Reiss also has a good selection of printed and graphic printed skirts here and finally, Warehouse has a super selection which include animal prints, spots, metallics and geo prints. You can see the full range here. This mixed animal pleated skirt from Warehouse (£46) is a favourite. Cool boots too!
Not all pleated skirts are created equal so I would definitely say try before you buy and remember to watch the video and then remember to pay attention to the pleat type, volume, length and fabric when choosing your pleated skirt. Some are definitely easier to wear than others!
Until next time! xxx