Hello everyone! How are you all? I hope that you've had a fabulous week.
I WAS going to swear but I won't, just in case the google gremlins penalise me for it – but can I just say that I flippin' love a sequin top, especially at this time of year.
Whether it's a casual sweatshirt shape top, a sequin vest worn under a blazer, a long sleeved fitted top, or a top with just a hint of sparkle or glitter (for those who aren't big in the sparkle stakes) – sequins are such a great way of making maximum impact, with minimum effort. Think about pairing them with textures on your bottom half. Leather, pleather, velvet or silky fabrics all work really well with sequins, as well as denim.
So here are my top 5 favourite sparkly sequin tops and if you would like to watch my video on sparkly tops, you can watch it HERE!!!
OK, so let's get started! First off, Other Stories have this sequin turtleneck (£59). I have this top from a couple of years ago and I absolutely love it. A turtleneck is such a useful piece in your wardrobe and this top is a good weight and the right length for soooo many different "bottoms". I wouldn't swap this for the world. Well slight exaggeration but you know what I mean!
I really love a simple sequin vest underneath a blazer. A strip of sequins placed in the middle of your outfit is such a flattering look. It draws the eye in towards the centre of your body and is super chic too. The V-neck and slight swing to this top are really flattering for anyone who has a curvier bust and who wants to disguise their tum. This top is from JD Williams and costs £18. It also comes in cobalt blue which is so vibrant.
Forget that the model wearing this top is super young and just concentrate on the style of this beauty from ASOS. It's a batwing sleeve with a tie design which comes in size UK 4 to UK 18 and costs £65. I would wear it tied at the waist or loose. With a simple pair of black trousers and a kitten heel, it would make such a fabulous Christmas outfit. It's slightly open at the back so you may want to pop a lace bra-let over your bra but that's all perfectly do-able.
If full on sequins are a little too much for you, then a sequin sweater, such as this one from Marks and Spencer for £25, could be just the ticket. I love that it's a great all rounder, without being too OTT. It will be the perfect partner for a statement skirt or a slightly "fancier" bottom half. Pop it with track pants around the house, jeans and heels for a night out, or a full prom style, or tulle skirt, for "date night". What even is that? I have no idea. It's Pizza Express with all 5 of us in this house!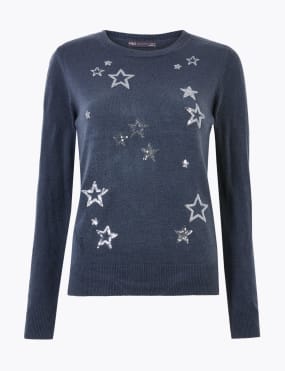 OK, so we've done a fitted long sleeved sequin top, a sequin cami, a super stylish tunic style top and a sparkly sweater. So what's next? I'm going for something different. How about a glitter cardi? Did you know that cardis are having a come back? This one could be worn either fitted or slightly oversized, with a lace cami underneath and a couple of buttons undone. Less gran, more glam! I love the warm colours in this knit, which can be super flattering on a skin that can't take black or grey quite so well.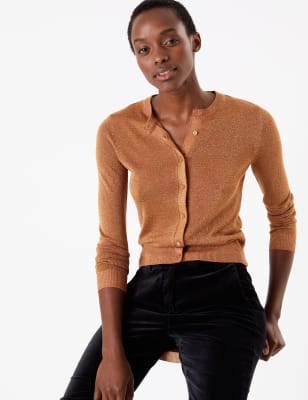 So there you have it, my 5 favourite sparkly tops for Christmas. Wherever you look you will find them, from H&M to Zara and Wyse London (some of my favourites EVER!) there's definitely a sequin top for you. Unless of course you're not a sequin lover, in which case you'll have to let me know and I'll have to try harder!
Have a fabulous week!
Beth x