How to style leather leggings when you're over 40…
If I were given a pound for every time I was asked the question "Will I look like mutton dressed as lamb if I wear this?" I would be a very rich lady!
The "mutton dressed as lamb" debate is a question that is the forefront of the minds of many women, long before it ever needs to be – indeed if it ever needs to be at all. I don't recall hearing of any men having the same conversation with themselves.
Pleather/leather trousers and leggings invoke this question in many women and I'm here to say to you if you like them, absolutely wear them – and then wear them some more! They can be styled in so many ways – from barely on show when worn with a long line jumper dress, to a little more on show when worn with a boyfriend blazer and anything in between. My only (personal) criteria is that if I'm wearing leggings, which obviously don't have the modesty element of trousers in terms of pockets over the bottom and a zip and button at the front, then I prefer to wear a slightly longer top.
If you would like some ideas on how to style your pleather or leather trousers, you can watch a recent Style Video on them below.
Now, as for where to start if you are just dipping your toe in the water and the best ones to try, here are some suggestions for you.
A coated skinny jean
OK, so pedalling furiously backwards to the easiest entry point for this whole pleather/leather legging malarkey, a coated skinny jean may be the best place to start.
The texture isn't exactly the same as pleather but they are different enough, whilst being similar enough to what you are probably used to, to make them at least worth a try. Over the years I've had them from Primark but Boden always does a great pair each season. They cost £60 and come in petite, regular and long and in sizes 8 to 22.
A pleather legging
Next are well known each season for their pleather leggings and many women have great success with them. I fell in between sizes when I last tried them, so they weren't quite right for me but the fact that they come in several different colours (khaki, mink, navy sparkle, berry, chocolate , bronze and black) as well as in different lengths (petite, regular, long, extra long, tall) makes them really accessible. Their £26 price tag isn't too hefty either.
Now I haven't tried Calzedonia before but they were suggested to me by someone who watched my Style Video and who left a comment. Followers' recommendations are always welcome so I'm happy to suggest that you give them a go too! These are thermal and cost £25. They also have a silver pair too. Epic!
Karen Millen have a pair of pleather leggings which are in the sale at £80.50 reduced from £115. The leggings that I am wearing in the video are from Karen Millen and I've been really pleased with them.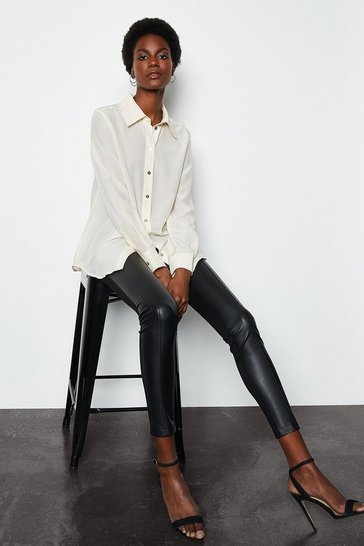 Marks & Spencer have a pair of animal print leggings here and unsurprisingly, H&M have a great selection too, as do Topshop
Leather leggings
Me & Em have a very cool, and very stylish, pair of leather and gabardine leggings. At £499 they are distinctly pricier than some but if you have perhaps bought into pleather leggings previously and you're now ready to move on, these could be great for you.
The Baukjen Liv leather leggings are a great hit season after season and if I was going to buy some real leather ones, these would be where I would start first with a little trying on session.
They also have the Lauren legging (£365) which have a higher rise and a side zip.
Leather trousers
If the idea of a leather trouser appeals more than a legging, then again Baukjen has a great selection. This Raven trouser (£449) is a cigarette style and so easy to wear in a trillion ways!
Then there's a cropped style, the Jemima leather trouser (£349) which looks to me if it has just a liiiiiitle bit of a kick flare – which is very exciting! I love how even a kick flare does a great job of balancing out the hips and thighs.
And finally, Me & Em have a skinny leather biker trouser in military brown (£599) – which is a great alternative to black.
As with anything that is new, it's important not to overthink them. We can be so harshly critical of ourselves, scrutinising from every angle, in every light and with every top in our wardrobe.
If they fit well, if they are comfortable and if they make you feel great (even if you're not 100% sure) head out in them as if you've been rocking them for ever. And if anyone dares to comment on them in a way that is anything other than positive, jab them with your stiletto (or in my case trainer or biker boot!)
I really hope that the combination of the video and the choices above, give your some ideas on "How to style leather leggings when you're over 40"!
Beth x