I think that there's a part of us that expects, and accepts, that we are going to have to tolerate painful feet during the festive season. But the older I get, the less happy I am about that as a concept. Over the years I've found my way around the issue and my wardrobe now includes comfortable heels and other, cooler, alternatives. So I'd like us to take a look at five ways around the perennial painful feet problem with five comfortable shoe styles for Christmas.
1.Thinking outside the high heeled box with hi-tops
Who says that we have to wear heels anyway? Let's start by thinking outside of the "high heeled" shoe box and let's go with a complete alternative, which can look just as great dressed up with a floaty dress, as they can with jeans.
The ones that I am wearing above were from Mint Velvet but I've asked Santa for these Air & Grace Alto hi-tops. I bought my hi-tops before Air & Grace sold any but I wanted to make the switch as I know how comfortable Air & Grace trainers are. They just seem to re-align me in a way that trainers from other brands don't, so for me they are worth the investment.
If, on the other hand, heels really are the order of the day then there are ways around the pinching, ball of the foot aching, tottering issues, that can be associated with them, whilst still getting the height that can make us feel oh so glamourous.
2.How about a block heel?
Let's start with a block heel. A nice, sturdy block heel can be great for stability whilst offering a little height. There's no teetering with a block heel and for the every day, or for cooking the Christmas dinner in, they are super wearable. The shoes that I am wearing were from Topshop about three years ago now so they're no longer available. But you get the idea! I've worn these with pretty much everything from dresses, to pleather trousers, pleated skirts, jumpsuits and of course, jeans.
So we can go low block heel, which are absolutely the best if heels aren't your thing. They're much sturdier than a kitten heel and you're less likely to slip and skid on the brussel sprout/potato peelings that you may have inadvertently flicked onto the floor whilst preparing the Christmas dinner – which is probably potentially one of the most dangerous meals to cook. I mean just think about it – flouncy dresses, heels, fizz, the odd candle – it's a disaster waiting to happen!
Or we can go higher block heel, if that's more your style. Before you scroll down and look at my next exhibit (yes I know you've done it already because you're just whizzing through this on your phone!) take a minute and just let me explain. There's no point in my including a "blah" block heel so I've gone with something totally crazy and no doubt marmite-esque in its appeal. Show stopping, crazy, fun, put a smile on your face shoes which absolutely deserve a place on your feet on Christmas Day. Just draft someone else in to cook the Christmas dinner for once. Gravy on these babies would not be a good look.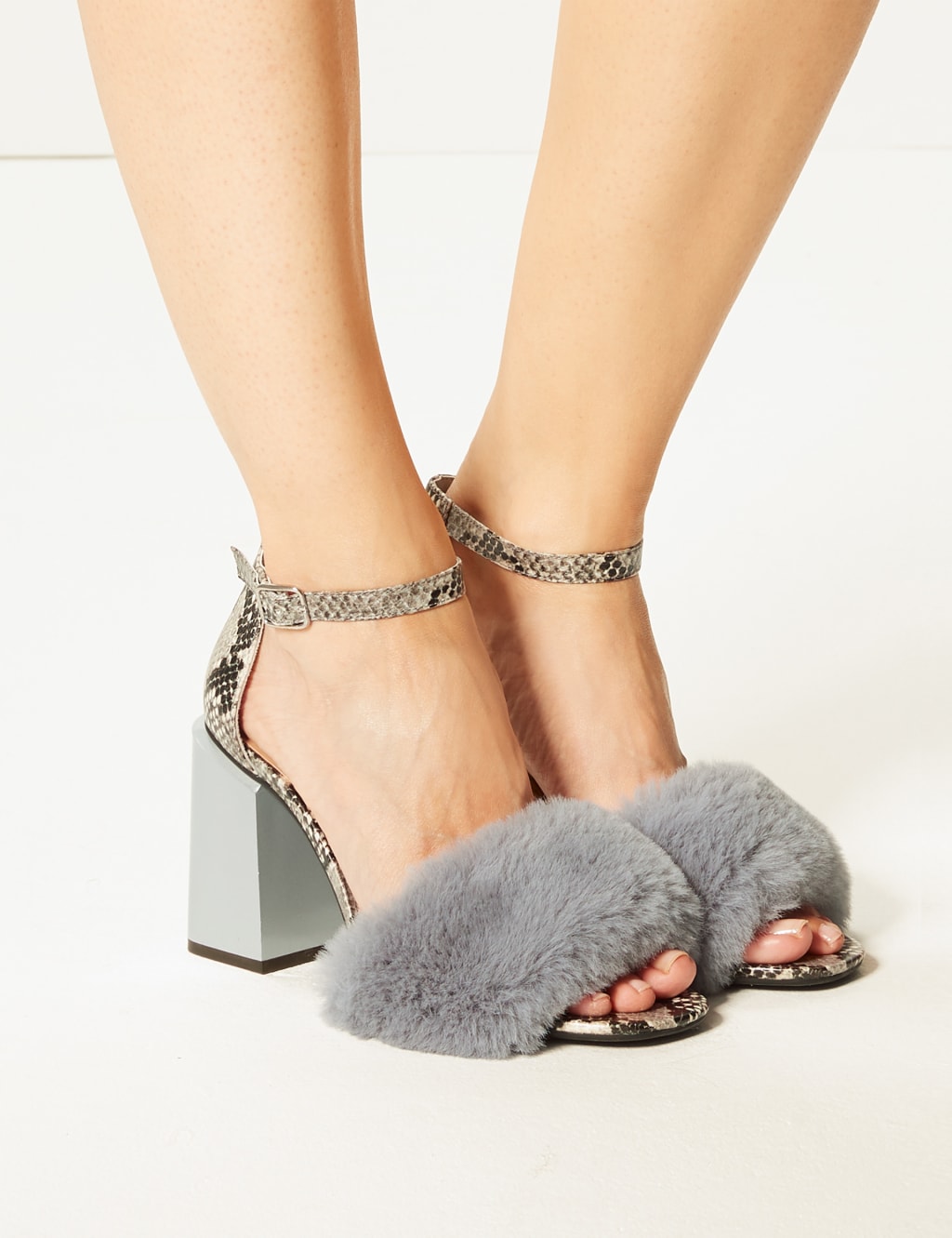 3.Thinking about the composition
Sometimes it's the combination of a heel, and an upper made from a stiffer material, that all just becomes a little too much. Eliminating one of those can make all the difference. Some materials are just more forgiving than others and I've really found that my velvet leopard print heels from River Island are super soft against my feet.
A mule also eliminates the risk of rubbing around the heel area so these kitten heeled velvet jewelled mules from M&S (£35) are also a fabulous option. I like that there's a little bit of a heel but they should be really soft against your tootsies.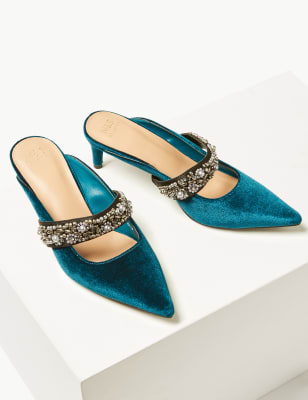 The fabulous thing about the internet, and Instagram, is that there are all sorts of niche businesses out there. I was really lucky to be contacted by Sole Bliss whose strap line is "Stylish Shoes for Ladies with bunions and wide feet." I was invited to choose a pair of shoes or boots from their range and I chose the Flavia boots (£199).
The shoes come with a cushioned stretch panel over the bunion area, along with layers designed for shock absorbing, contouring and cushioning. There are a wide variety of styles available and, having worn my boots for two hours on TV and having walked home from the pub in them, I can vouch for their comfort.
5. Keeping an eye on the trends
I would be the last person to advise anyone to slavishly follow the trends but the first person to say that it's a good idea to know what the trends are. I mean, whoever thought that chunky boots – whether they are hiking style, or DM style – would be such a huge trend this year?
Wearing chunky boots has completely revolutionised my winter wardrobe this year. The ones that I am wearing are from Zara (£95.99)
I totally get that they are a marmite situation but I'll tell you what I love about them. First, they are super comfortable. Secondly, I can take big, proper, strides in them. Thirdly, the chunky soles give me a bit of extra height. Fourthly, they come sufficiently up my leg to reduce that awkward gap between the hem of a midi dress or skirt, and the top of my lower cut ankle boots (great if you need to tan/shave/wax your legs – I'm all about cheating on these things!) And fifthly they just go with everything. And if you're interested, I cannot recommend this skirt highly enough. It's from JD Williams and it costs £61.75. It's got the right amount of pouffe to it and it's navy and black stripes with sparkle in it. PLUS, it has little elasticated bits at the waistband. Perfect for Christmas Day!
I've really enjoyed writing this post and I hope that you find it helpful in the run up to Christmas. Sending you lots of love and Christmas wishes. Beth xx