I fear that many will roll their eyes on reading this post and wonder what on earth I am going on about but I sometimes wonder that about myself too, so not to worry.
I last owned a sweatshirt when I was at University. It was grey and horrible and I wore it with equally horrible leggings. I have no idea why I bought it and I haven't bought one since.
However just before Christmas, sweatshirts came back on to my radar when I noticed them in New Look and slowly but surely since then they have been wheedling their way back into my consciousness.
The ones in New Look weren't quite right – a few too many studs and a few too many skulls – but I liked the idea. Unlike before, now it's all about the styling of them. No longer are they something to chuck on with only your jeans (or horrible leggings). Rather they are to be worn as you may once have worn a silk shirt – or how you may now wear a denim shirt – to dress quite a dressy outfit, down.
Think tweed pencil skirt and heels (see below) and you'll be on the right track. Sweatshirts need to be a relaxed fit but not too loose – which is good or else the striped one that my husband was wearing yesterday would have been pinched quick smart.
So I have hunted around to see what I could find and this is the best of the bunch so far…
There's this button back sweatshirt (£29) from Esprit which comes in a variety of colours. The buttons down the back add that extra style element to what is, let's face it, essentially a plain long sleeved top but only thicker.
There's also this finely mottled sweatshirt (£39), which too is from Esprit and which comes in a selection of colours. The little triangle at the neckline is classic sweatshirt detailing and it gives it more of a utilitarian look.
I have also included this Gap sunkissed pullover (£24.95) which comes in a myriad of colours and which, on close inspection, is more sweatshirt like than jumper like.
And here's how to complete the look – Pencil skirt from J Crew in clover tweed…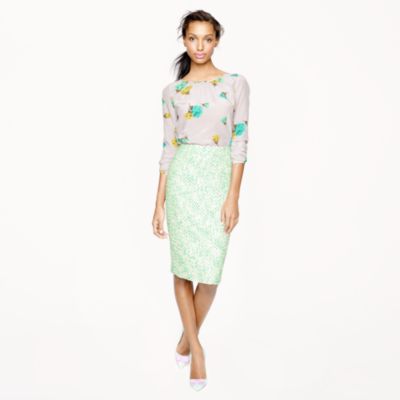 …and ASOS hometown heeled sandals (£40), because block heels will be all the range come the spring. Play with the colours, play with the texture, push the sleeves up on the sweatshirt and add a stack of cuffs/bangles/bracelets – you get the idea.
I can imagine wearing this when something a little "fashiony" is called for. With a decent length to the skirt and covered arms, it is all very respectable and age appropriate for someone whose daughter turns 14 tomorrow!