Don't be put off by the text, the pictures are all here today but just on Pinterest (see link below.) I spent the day shopping and working from home and there's only so many times I can post a picture of Cos grey skinnny jeans and Cos Chelsea boots before you all start to despair.
Anyway, it has finally happened! I have made it. I knew that it would happen one day, I just wasn't sure when. I am a true fashionista! And how do I know that I am? Because, even though it is only May, and we have a whole season of summer clothes ahead of us, I am already planning what winter coat and winter boots I would like. OK, so the fact that this has been prompted by the foul weather and the need to be warm and comfortable (as opposed to a desire to be first in the queue with the latest trend) is besides the point.
It just so happened that today I was shopping for a client and that during that shopping trip, I had to take a sneaky peek in Jigsaw.
I have no idea what it is about that store but whenever I step over the threshold, a kind of calm descends over me (unless I am with the children and then it's more a case of sheer panic in case they damage anything.)
Of course in order to do a proper job, I had to sift through everything in the store. Such a shame. I have to say that I wasn't disappointed with what I saw. This season there are some brights and some pastels, in additon to their staple neutral colours. There is also some lovely detailing in terms of ruching, gathering and so on, making items more flattering for those with curves and more interesting for those without.
Having concluded that we don't have a spare few thousand pounds lying around with which to buy the pieces I had spotted, I decided to create a board on Pinterest instead. I thought that it might serve to exorcise the images from my mind (it hasn't). If you would like to take a look at the board, you can do so here (Mum, if you're not sure what to do, click on the word "here")
I also had a quick whizz around Kew, which is upstairs in Jigsaw although sadly not for much longer as the brand is soon to cease trading. There are some really good reductions on line, for both winter and summer clothes and I expect they will only get better, so it's well worth taking a look – here's the link http://www.kew159.com/fcp/categoryhome/sale/?resetFilters=true
As you may remember from yesterday, I was on the hunt for some wide legged trousers. I came across these in White Stuff today and at the price of £49.95 instead of £159 as per the Jigsaw ones, they seemed relatively good value. OK so they don't have the whole sailor theme going on with the buttons on the side but I am sure that I could rustle up a quick dance of the sailor's hornpipe should I need to. Added to that they are machine washable – always a bonus in this house.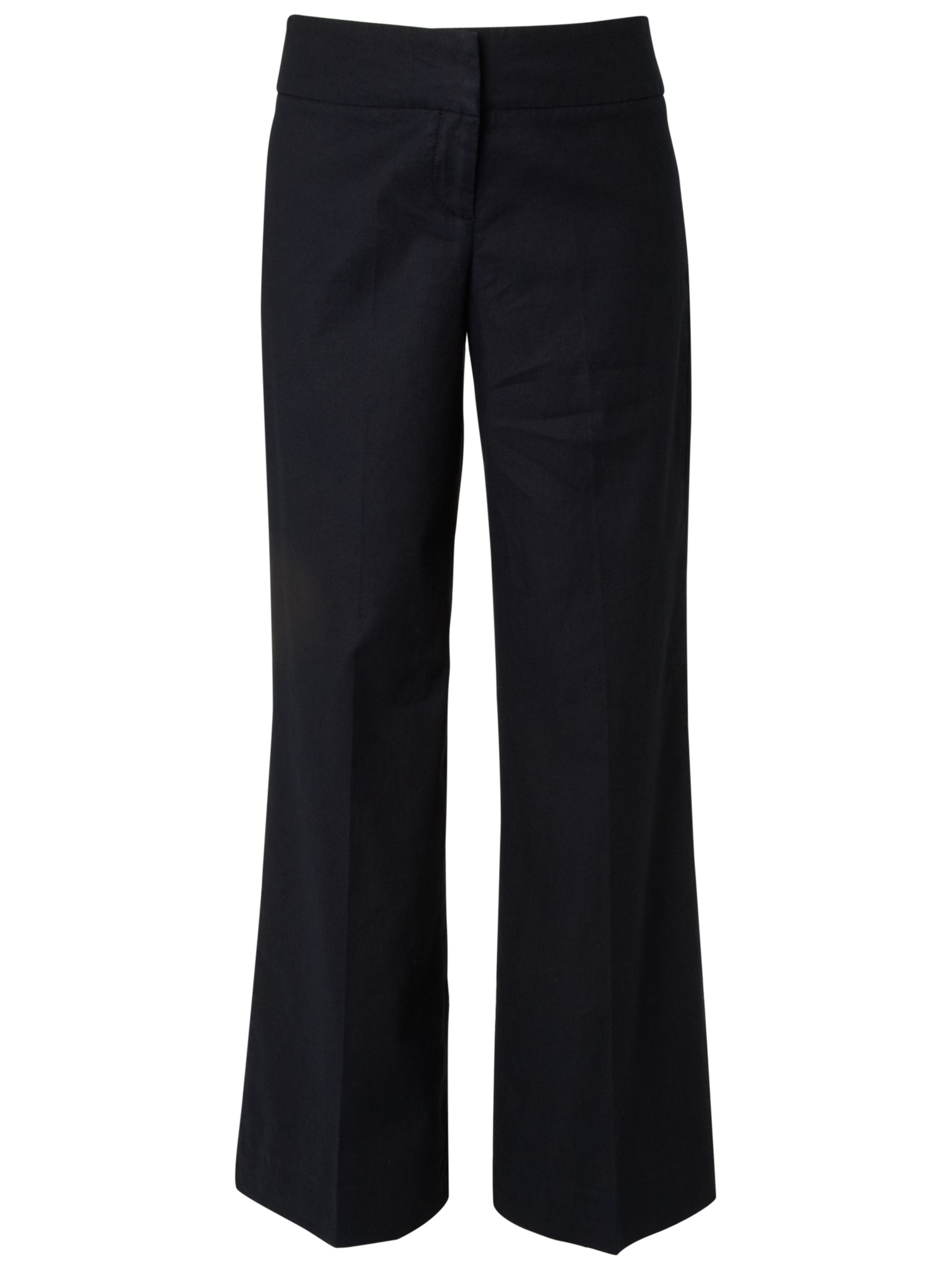 I can imagine wearing these with a silk shirt and gold wedges as easily as with a breton top and converse, or with a leather jacket or a blazer. It will just be nice to have a bit of fabric around the bottom of my legs so that I can go a bit more fitted on the top half.
I also like to buy a new pair of converse each season and have had my eye on these for a while. However I wasn't sure whether it might be time to deviate from converse for a while – hence the pink Topshop brogues and the Hobbs loafers – but having dug out a pair the other day I decided that it wasn't. So I plan on these making an appearance in my Wardrobe sometime soon.
So, that's a little round up of what's hot (Jigsaw) and what's not (the weather) which by fluke (in being so far ahead with my coat and boots considerations) has made me tres cool! Yeah right!