This is not a picture of me, not standing outside of our front door and not wearing anything at all! I decided to give myself a little sabbatical today as I have blogged a picture of what I am wearing every day for a long time now. As the sun was out I decided to re-vamp the pots by the front door and treat us to a new door mat – so I am showing you a picture of that instead.
I thought that I would also share with you another spring purchase for the house – our new rug. I have been after a rug with pink in it for years – literally years. The one I loved the most was from the Rug Company in London and was by Marni. The Rug Company very kindly let you "borrow" them free of charge but I knew that such a move would be dangerous. I also knew that there was no way we could afford the £5 000 price tag attached to the rug so I kept on searching until I came across this one from Marks and Spencer.
It arrived on Monday but I hadn't had an opportunity until now to open it so tonight was the night! I love it, especially the pink.
So, back to the clothes…. for some unknown reason I have decided that what my Wardrobe is lacking is a pair of pale blue trousers – I know, don't ask me why! These are the pairs I have come across so far:
Audrey skinny trousers from Whistles. They are £75 which is a bit on the steep side and from the other pictures available it looks as though they don't have back pockets – which can be a bit limiting, should I want to wear a shorter top.
Harris cropped trousers from Reiss which, at £95, are more than I would like to spend on something which I would want to wear on a daily basis especially as I am likely to get something down them pretty much immediately. They also do another pair which aren't online but which are at least machine washable – so perhaps more of a possibility.
French Connection has a lovely pair which don't appear to be online. However, at £75 they too are pricey and are essentially just a pair of cotton chinos. The ones in GAP are a brighter blue than I would like but these ones from Topshop may do the trick – depending on the cut around the thigh area! At £28 they are much more of what I had in mind – especially as I am just dipping my toe into this look to see if I like it or not.


This pair of skinny jeans from River Island could, as my Grandad would have said, be "just the ticket." They are reduced to £20 from £30 but they only have my size in a long – so I could either borrow my friend, Vicky's, legs or get them shortened. I'm not too fussy whether I have a chino style or a skinny jean. I'll probaly try a few, go round in a circle or two and then get something completely different altogether – but I like having a plan!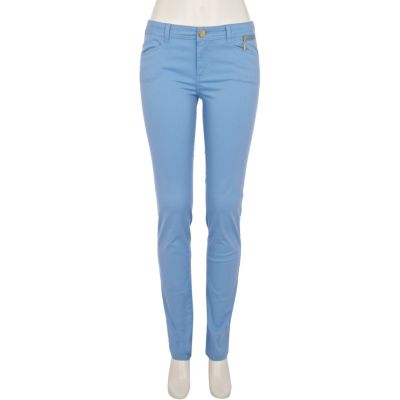 To go with them I quite like these blue lace ups from Clarks, at £49.99, because they will be great for dashing around in when the warmer weather arrives but when it is still too chilly for sandals. They will also give me a nice change from converse which are what I tend to wear in the spring/summer with trousers. These gold ones, also from Clarks, may have potential but I would need to see them in the flesh. As I used to ask the oldest children when they were small "Yummy or yuck?" I fear that they could be "yuck" but who knows? It's good to keep an open mind on these things.
Should you like the idea of some brogues for the spring you can also find them in Marks and Spencer – online only and in four (neutral) colours, sparkly ones in Dune, pink and cream/green and cream in New Look, patent ones in the sale in Hobbs online, Topshop, Office – the choice is endless!
I don't know about you but the warmer weather (in February? I know, ridiculous) has made me start to think about what I might need to add in for the summer. That transitional stage of "not being cold enough for thick tights but not being warm enough for bare legs" can be tricky – hence my looking to coloured trousers and brogues in lighter colours to keep things interesting, whilst still remaining practical, until it warms up properly. The other thing to do of course is to swap your winter scarf for a lighter one, together with your coat and bag and you will be well on your way outwitting the British weather (yeah, who am I kidding?!) Tomorrow I will show you the Reiss bag I have my eye on to go with the pale blue trousers. It's a dangerous world out there!